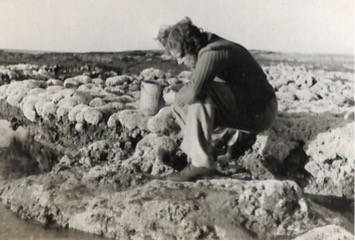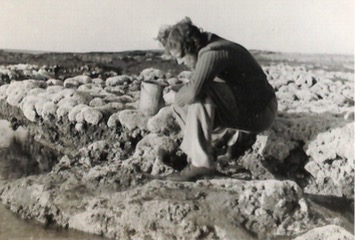 Elizabeth Pope conducted her scientific career at a time when science was a patriarchy and women were more likely to be the secretaries of scientific men, rather than renowned researchers in their own right. During her lifetime of investigating, recording and sharing information on the seashore, Pope found many opportunities to exercise her scientific expertise and indulge her passion for the rocky shore. Within the walls of the Australian Museum it was often more difficult for her to broadcast her successes as she had to navigate a much more complicated social terrain.
Step out a foot from the edge of the shore and we are in an alien world that conceals more mysteries than the moon.
Elizabeth Pope.1
Early Life and Career
Pope was born on the 4th November 1912 in Nelson, New Zealand. Late the following year her family migrated to Australia and settled in Bellevue Hill, her father becoming House Master at Scots College. Pope was part of an emerging generation of women afforded the opportunity to attend university. After finishing high school, Pope attended the University of Sydney, graduating in 1935 with First Class Honors in Zoology. On the 15th of September 1939, she joined the Australian Museum as a second-class Scientific Assistant in the Crustacea and Lower Invertebrate department. This position was advertised with a salary of £350, but because she was a woman she received a salary of only £193, almost 45% less than her male colleagues.2
This gender divide defined much of Pope's early career. For example, despite her penchant for scientific field and collecting trips, Pope was prohibited from driving the museum car until the 1960s, because she was a woman. Despite these limitations, Pope made her mark at the Australian Museum. In 1957, she became the curator of the newly formed Worms and Echinoderms Department, and in 1971 she became the first female Deputy Director of the Australian Museum.
A Zoologist by the Sea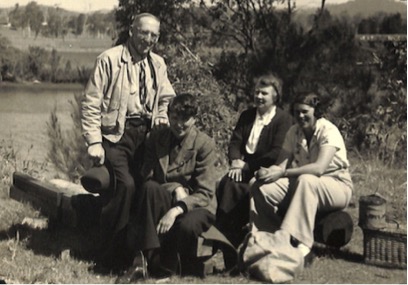 Pope was highly regarded during her lifetime for her research into the effect of sea temperatures and latitude on the distribution and abundance of intertidal organisms on the rocky shore. The foundation for this research was based off an extended field trip conducted by Pope and her colleagues, fellow marine biologists from the University of Sydney, William J Dakin and Isobel Bennett in 1946.3 The specimens collected and the observations recorded by these scientists as they travelled along the east coast of Australia formed the basis for the hugely popular Australian Seashores: A Guide for the Beach-lover, the Naturalist, the Shore Fisherman, and the Student (1952).4 At this time, very little was known about the waters that lapped Australian rock platforms and ocean beaches, and so for the first time, readers were introduced to the biological diversity of the shores in which they swam.
Pope conducted several other field trips during the 1950s in Queensland, Victoria, Tasmania and Western Australia and in 1965 she extended her fieldwork to the Northern Territory. In 1962, she became one of the first women to visit the Australian Museum's Antarctic base on Macquarie Island. Collectively, these surveys of intertidal shores have provided a useful baseline for assessing the effects of climate change and increases in sea surface temperatures in Australia today.5

A Science Communicator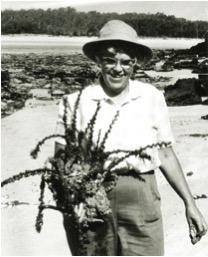 Throughout her career, Pope tried to foster a scientific community that was welcoming to women and students of science, and on her field trips Pope actively encouraged research-input from engaged amateur biologists and professional fisher people.
In the post-colonial Sydney of the 1950's, when children were still being taught science with textbooks from England, Pope and her colleague, Patricia McDonald, recognized the need to develop information about Australia's iconic beach environments from a uniquely Australian perspective. They went on to write a book "Exploring Between Tidemarks" in 1958 to provide Australian students with an introduction to seashore ecology.6 Pope also frequently contributed to ABC Radio's children's program, The Argonauts.
During her career, Pope published many articles in the Australian Museum Magazine, she was a Fellow of the Royal Zoological Society, a corresponding member of the Zoological Society of London and for a time, President of the Linnaean Society of New South Wales. Pope retired from the Australian Museum in 1972, and died on the 18th of September 1993.
Authored by: Ella Finney (Australian Museum Volunteer)
References:
Prue Walker, "Elizabeth Carrington Pope," Australian Museum https://australianmuseum.net.au/elizabeth-carrington-pope.
Elizabeth Pope, "Annual Report 1971-1972," (Australian MuseumJune 1972).
"'The Coast of New South Wales'," (The Australian Musuem Archives, 1946).
Dakin, William J., Bennett, Isobel, 1909-, Pope, Elizabeth, Dakin, William J, Bennett, Isobel et al. Australian seashores: a guide for the beach-lover, the naturalist, the shore fishermen, and the student. Angus and Robertson, Sydney, 1953.
Poloczanska, Elvira S., Smith, Sam., Fauconnet, Laurence., Healy, John., Tibbetts, Ian R., Burrows, Michael T., and Richardson. Anthony J. "Little Change in the Distribution of Rocky Shore Faunal Communities on the Australian East Coast after 50 years of Rapid Warming." Journal of Experimental Marine Biology and Ecology 400(1), (2011): 145-54.
Pope, Elizabeth C., McDonald, Patricia and Australian Museum Exploring between tidemarks: an introduction to seashore ecology. Published by authority of the Trustees of the Australian Museum, Sydney, 1958.
Photo Credits:
Pope observing Galeolaria 'coral' and Spirographis tubes on the rocky shore in Merewether, NSW. Photographer unknown. Australian Museum Archives (AMS133_2_9_7B). Reproduction Rights Australian Museum.
Professor W. J. Dakin, Isobel Bennett, Mrs. Dakin and Pope (left to right) on their biological collecting trip up the east coast of Australia 1946. Photographer unknown. Australian Museum Archives (AMS133_2_9_7d). Reproduction Rights Australian Museum.
Pope. Photographer: A nursing sister of the N.T. Medical Service. Australian Museum Archives.  Reproduction Rights Australian Museum.