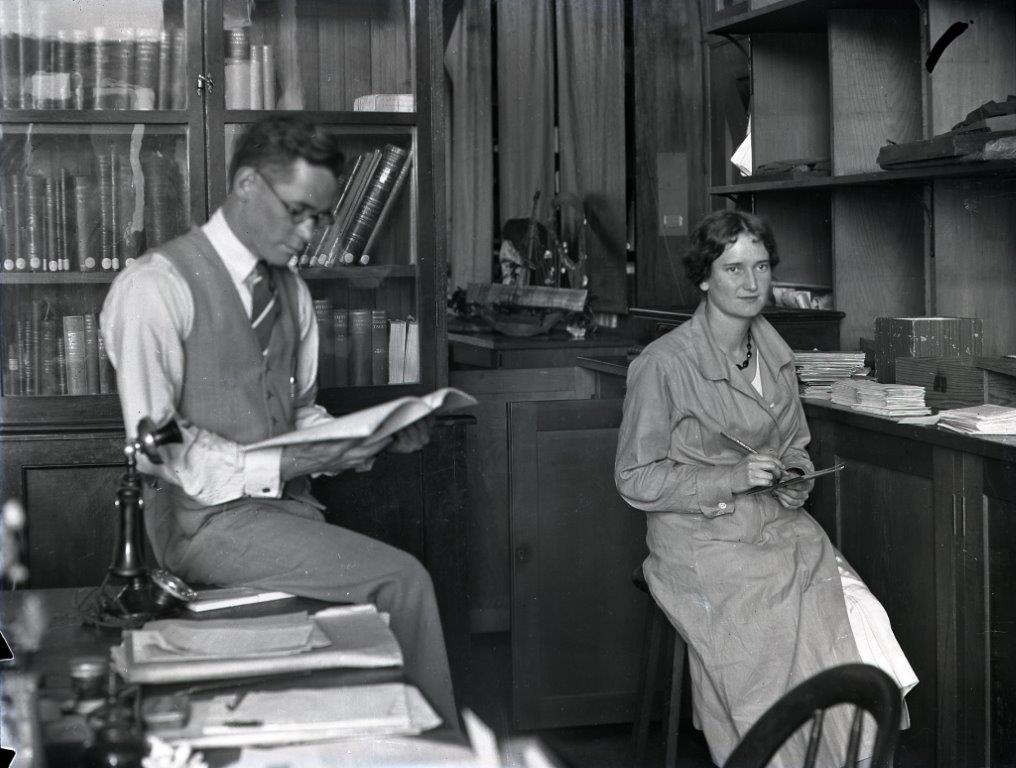 When Elsie Bramell (1909-1985) began working at the Australian Museum in 1933 she was the first woman and the first university educated person to take up a scientific position in the Anthropology Department. She was appointed Scientific Assistant, senior to her colleague and future husband Fred McCarthy, who had worked at the museum for many years but was less qualified. Bramell's museum career prematurely ended when New South Wales (NSW) Public Service regulations forced her to retire in 1941 on her marriage to McCarthy. Incredibly, it was a requirement that female government employees resigned their positions once they were married.1
Despite this relatively short career, Bramell achieved much and brought intellectual rigor and educational fervor to her museum work. Through her ongoing archaeological fieldwork with McCarthy and their joint formulation of a classification system for Australian Aboriginal stone tools, Bramell was one of the few women involved in the early phase of Australian archaeology when it was developing into an academic discipline.2
In 1909 Bramell was born in Port Moresby, Papua New Guinea, where her father, B.W. Bramell, was Resident Magistrate and later Commissioner for Native Affairs. She came to Australia to be educated at St George Girls' High School in Sydney, where she excelled, gaining a scholarship in 1928 to attend the University of Sydney. Her studies included courses provided by the newly founded school of Anthropology, under A.R. Radcliffe Brown, and she graduated in 1933 with a Bachelor of Arts and a Diploma of Education, which would have typically led to a teaching career. In 1932, she spoke at the 21st Australian and New Zealand Association for the Advancement of Science (ANZAAS) congress in Sydney on issues of law and order in Papua New Guinea and went on to complete her Master of Arts on this topic in 1935.
Partners in Love and Work
In that same year, her future husband McCarthy completed his Diploma of Anthropology and together they shared the management of the Australian Museum's entire cultural collection of over 30,000 items, dealing with public inquiries, registration, cataloguing, exhibition, and storage.
During the 1930's scientific methods specific to Australian archaeology were still developing, and McCarthy and Bramell conducted some of the earliest systematic archaeological excavations in the Sydney region. That they were able to achieve this was especially remarkable given that their activities were often restricted to weekends due to a lack of funds and equipment. Bramell is perhaps best known for her contributions to this joint project – the collection and study of Australian Aboriginal stone artifacts. With McCarthy she collected stone tools at Maroota, Wondabyne, Dee Why, and Port Kembla, excavated Emu Cave, and surveyed rock shelter archaeology in the Wollombombi district of NSW.
A Pioneer in Public Outreach and Education
Possibly due to her training in Education, Bramell was one of the first museum staff to give radio talks on anthropological topics, and she gave a series of lectures in the Australian Museum's popular Science Lecture Series. She also gave talks for the public at the YMCA and contributed to the journal Mankind, published by the Anthropological Society of New South Wales, where she was on the council from 1935-1939 and the editorial committee between 1940 and 1946. She regularly wrote for the Australian Museum Magazine on topics such as the cultures of the Pacific and Australia, and authored a pair of articles on "The Story of Man", written as an adjunct to the museum displays she helped create.3
An Early Indigenous Rights Advocate
Bramell was ahead of her time regarding the protection of Australian Indigenous sites, before it became a widespread issue in the anthropological field. She and McCarthy had seen first-hand the destruction and defacement of sites in the Sydney region, and in 1938 Bramell attended the ANZAAS meeting in Auckland and advocated for the protection of archaeological sites and artifacts and wrote on the subject in the Australian Journal of Science.4 McCarthy continued to push for this protection to be cemented through legislation for decades afterwards.
Bramell's Post-Museum Years
After leaving the museum in 1941, Bramell continued to be unofficially involved with the collections, working further with McCarthy on weekends collecting and recording sites around NSW. The couple had three children together in the 1940's.
In 1946 she co-authored with McCarthy and H.V. Noone, "The Stone Implements of Australia" 5, which was published in the Memoirs of the Australian Museum. This work is now considered a classic reference for Australian archaeology, and it is noteworthy for the early recognition of the complexity of Australian Aboriginal stone tools and for providing a systemized descriptive framework for them.
Bramell's passion for the Australian Museum and anthropology continued throughout her life, and she supported McCarthy during his long career. Her rich legacy is remembered in the naming of the The Elsie Bramell Room, a Wet Archaeology Laboratory at Northern Territory University in Darwin, Australia.
Authored by: Sue Myatt
References
Oakes, Leonie, Meehan, Betty and Bolton, Lissant, 1985. Elsie McCarthy (nee Bramell). Obituary Australian Archaeology, No.21 (Dec 1985), p139-141.
Bowdler, Sandra and Clune, Genevieve, 2000. That shadowy band: the role of women in the development of Australian archaeology. Australian Archaeology, No.50 (June 2000), p27-35
Bramell, Elsie, 1942. The Story of Man. Australian Museum Magazine 1942; Vol.7, no.12: p403-407 and Vol.8, no.1, p13-16.
Bramell, Elsie, 1939. The necessity for the preservation of Aboriginal relics. Australian Journal of Science Vol. 2, no.1: p1-3
Frederick D. McCarthy, assisted by Elsie Bramell and H.V.V. Noone, 1946. The Stone Implements of Australia. Memoirs of the Australian Museum No.9.
Image Credits
Elsie Bramell and Fred McCarthy in the Australian Museum Anthropology Department 1933. Photographer Anthony Musgrave. Australian Museum Archives AMS514_VA180_8. Reproduction Rights Australian Museum