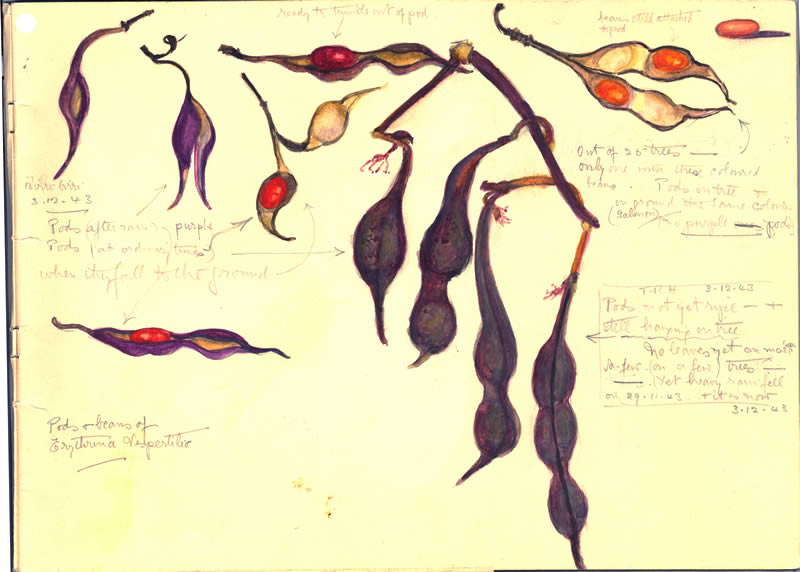 Olive Muriel Pink was born in Tasmania in 1884. She studied art at the Hobart technical school, and spent much of her early life working as an artist– teaching lessons and drafting for public works projects. With the onset of the Great Depression, Pink lost her job (she had been painting excursion posters for the New South Wales Government Railways and Tramways), prompting her to embark on a journey across central Australia, sketching and observing the lives of Indigenous peoples. This trip had great impact on her life, as upon her return Pink began a new career in anthropology, studying Indigenous Australian peoples.
Over the next decade, Pink would conduct research on the eastern Arrernte of Alice Springs and the Warlpiri of the Tanami region. She grew to be a passionate activist for aboriginal rights (in fact, historian Julie Marcus suggests that Pink ultimately left academia because she felt it was not serving her activist goals). In 1946 she tried to start an independent Warlpiri community, but was ultimately unsuccessful. Left with very little resources, Pink relocated to Alice Springs, where she spent the following years in huts and tents, holding small jobs and selling fruit and art. In 1956 Pink was granted a tract of land which she turned into a flora reserve, an area that is today known as the Olive Pink Botanic Garden. Pink spent the rest of her life tending to her gardens, until her death in 1975.
Authored by: Jeannie Yamazaki
Additional Resources
The Olive Pink Botanic Garden website.
University of Tasmania's vast collection of Pink's illustrations. 
To learn more about her life, her work, and her inspiration, see this article previewing Olive Pink: A Life in Flowers, a new biography by Gillian Ward. 
References
Olive Muriel Pink. (n.d.). Retrieved from http://guides.naa.gov.au/records-about-northern-territory/part2/chapter16/16.18.aspx
Pink, Olive Muriel. (n.d.). Retrieved from https://www.anbg.gov.au/biography/pink-olive.html
Marcus, J. (2002). Pink, Olive Muriel (1884–1975). Retrieved from http://adb.anu.edu.au/biography/pink-olive-muriel-11428
Image Credits
Featured Image: Erythrina Vespertilio Pods, Illustration by Olive Pink. Archived © 2013 Olive Pink Botanic Garden.