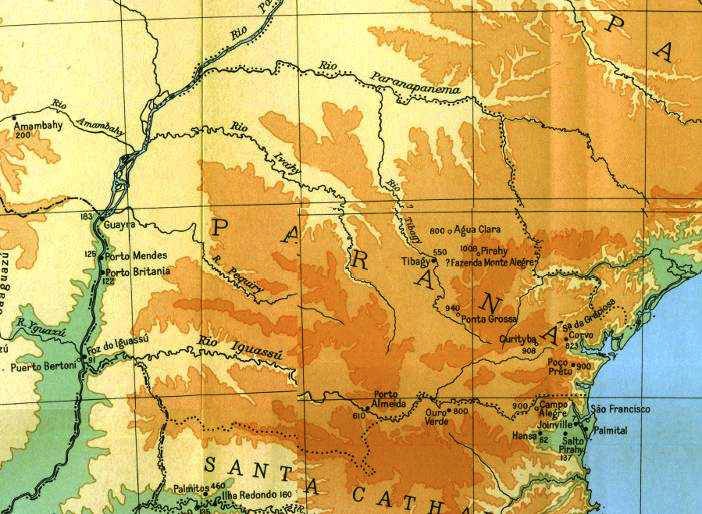 Born in New York on July 7, 1880, Elsie Naumburg lived through two World Wars and the Great Depression. At a time when Europe dominated ornithology and America was only just beginning to study birds and build museums, Naumburg helped to shape our understanding of ornithology for generations to come.
Inspired by a museum exhibit on a visit to Germany in 1912, and mentored throughout her career by not one, but two legendary ornithologists – Carl Edward Hellmyr and Frank Chapman – Naumburg pursued a lifelong passion for South American birds.
As a museum ornithologist, Naumburg described over 12,000 bird specimens from Brazil and Paraguay, none of which she ever heard sing or saw fly.
Naumburg worked in an era of unprecedented exploration by the American Museum of Natural History, when expeditions dispatched around the world were avidly collecting specimens for scientific research and public display.  One of the more perilous of these was the River of Doubt Expedition of 1913-1914, which lost three of its nineteen men over the course of their journey to map the river and collect specimens.
The River of Doubt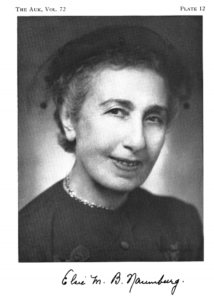 As Theodore Roosevelt and his team struggled down the River of Doubt for over a year, Naumburg was volunteering behind the scenes, analyzing the crates of bird specimens arriving in New York. For the next 14 years, she studied the collection that George K. Cherrie painstakingly pursued, preserved, wrapped, and labelled.
She worked meticulously describing, measuring, and comparing the hard-won bird skins to other known specimens in Europe to be sure her findings were accurate.  Confounding her work was the quality of some of the specimens, which arrived with broken tails, missing wings, and other defects from the arduous trip.
In retrospect, with almost 92 percent of all known bird species having already been described when the River of Doubt Expedition sailed from Brooklyn on October 4th, 1913, there was little hope of finding a new species. But that is just what the team of Cherrie and Naumburg did – found and described a species of owl entirely new to science (Strix chacoensis). Even Wallace on his expedition to the Amazon 50 years earlier, was unable to make such a discovery.
At the age of 50, Naumburg finally published her 430-page monograph "Birds of The Matto Grosso" in Volume 60 of the Bulletin of the American Museum of Natural History. Preceded by George K. Cherrie's field notes of the ill-fated expedition, her contribution imparts insights into the morphology and distribution of over 2,000 bird specimens – describing their plumage; measuring their wings, tails, and beaks; and defining their geographic ranges.
A New Expedition
While nearing completion of her enormous River of Doubt project, Naumburg took on her next challenge. Moving from working behind the scenes to the taking the lead in illuminating the birds South America, Naumburg funded an ambitious collaboration with Emil Kaempfer to further expand her work to Eastern Brazil and Paraguay.
With her support, Emil collected over 10,000 bird specimens in the five years from 1926-1931, many of which from remote areas beyond the scope of available maps. As Naumburg worked through the massive collection, her challenges expanded beyond ornithology to mapmaking. Hoping for insights into the distribution of the bird species Emil collected, she enlisted the National Geographic Society to create a gazetteer and maps of his obscure collecting locations under her supervision.
Interrupted by World War II, which diverted her energies to relief efforts by the Salvation Army, Naumburg only completed the first two publications in her planned series on the Emil Kaempfer Collection. "Gazetteer and maps showing stations visited by Emil Kaempfer in eastern Brail and Paraguay" in Volume 68 of the Bulletin of the American Museum of Natural History and "Studies of birds from eastern Brazil and Paraguay, based on a collection made by Emil Kaempfer" in Volume 74 of the Bulletin of the American Museum of Natural History.  She never finished the rest of the series.
An Enduring Legacy
Less than two months after World War II ended, her beloved mentor Frank Chapman died in November of 1945. She led the effort to create the Frank M. Chapman Memorial Fund to carry on the ornithology research he pioneered over a century ago. Administered by the American Museum of Natural History, it awards annual grants for research in avian systematics, evolution, and biogeography and for study of the museum collections both Naumburg and Chapman worked so diligently to build.
Naumberg died on November 25, 1953. Her philanthropy and dedication to science and education are an enduring legacy and a continued inspiration.
Education
Sachs Institute at the University of Frankfurt-am-Main
University of Munich, Germany
Senckenberg Museum, Frankfurt-am-Main
Zoologische Staatsmuseum, Munich
Career Highlights
Naumburg returned to New York in 1916 just as the United States was entering World War I. It was here that she began her career in ornithology.
American Museum of Natural History
1916: Volunteer ornithologist working for Frank Chapman
1918: Formally attached to the staff
1920: Made Research Assistant
1924: Appointed as Research Associate, a position she held for the rest of her life
Professional Associations
Fellow of the New York Academy of Science
Member of the American Ornithologist' Union
Director of the National Audubon Society of Greenwich (1942 – 1948)
Founder and Trustee of the William T Hornaday Memorial Foundation, established to promote Children's Museums
Director of the Greenwich CT Nature Center
Publications
"Descriptions of Proposed New Birds From Brazil, Paraguay, and Argentina," with George K. Cherrie. American Museum Novitates, no. 27 (1921)
"Descriptions of Proposed New Birds from Brazil and Paraguay," with George K. Cherrie. American Museum Novitates, No. 58 (1923): 8 pp.
"The Bird Fauna of North America in Relation to Its Distribution in South America." The Auk 43 (1926): 485–492
"The Birds of Matto Grosso, Brazil: A Report on the Birds Secured by the Roosevelt Rondon Expedition." Bulletin of the American Museum of Natural History 60 (1930): 1–432
"The Senckenberg Museum, Frankfort-on-Main, Germany." The Auk 48 (1931): 379–384
"Three New Birds from Northwestern [=Northeastern] Brazil." American Museum Novitates, no. 554 (1932)
"Gazetteer and Maps Showing Collecting Stations Visited by Emil Kaempfer in Eastern Brazil and Paraguay." Bulletin of the American Museum of Natural History 68 (1935): 449–469
"Studies of Birds from Eastern Brazil and Paraguay, Based on a Collection Made by Emil Kaempfer." Bulletin of the American Museum of Natural History 74 (1937): 139–205 and 76 (1939): 231–276
"Animal 'Building': A Visit Behind the Scenes at the American Museum Where You May See Animals Being Made Ready for Exhibition." The Junior Natural History 1, No. 11 (1937): 13–16
Other Interests
Naumburg also supported her second husband's passion for music. She served as Secretary and Treasurer of the Walter W. Naumburg Foundation, which he founded in 1925 to support composers and musicians.
She also served as Chair of the Board of An Hour of Music, Inc., which Walter established in 1937 to provide promising performers with a professional debut in New York.
Authored by: Erin Willigan