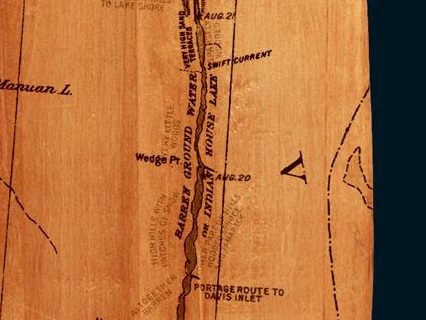 In an epic story of love, trials, and vindication at the dawn of the 20th century, the farm-raised daughter of European immigrants to Canada became the first white woman to explore and map the backcountry of Labrador.
An Unexpected Pioneer
Mina Benson Hubbard's background gave no indication of her pioneering work to come. In 1900, after training to become a nurse in New York City, she cared for the outdoor journalist Leonidas Hubbard as he recovered from typhus, and they married the next year. Two years later he embarked, with two companions (friend Dillon Wallace and guide George Elson), on an expedition of Labrador that ended tragically in his death, alone in a tent.   
Taking Up the Reigns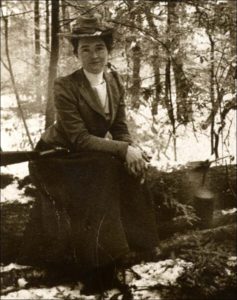 Wallace, who had published what Hubbard deemed a misleading account of the failures of the fateful expedition, was planning to mount a new expedition to complete the goals of the original trip.
Meanwhile Hubbard put together a team of her own, including the other companion on her husbands ill-fated expedition, Elson, to do the same thing – complete the goals of her husband's original expedition. Both expeditions launched on the same day in June 1905.
Over 500 miles and just over two months later, Hubbard's team completed the expedition on schedule (and seven weeks ahead of the competing team), documenting the topography, geology, and biodiversity of a vast wilderness.
The public was fascinated by the story of this woman-led expedition. Hubbard lectured widely and recorded her experience in her book, A Woman's Way Through Unknown Labrador. Her story has been the subject of several biographies.
Setting the Wilderness Aside
She later settled into a life in the United Kingdom outside the public eye, marrying a businessman, raising three children, and never completing another expedition other than a canoe trip down Canada's Moose River with her former guide Elson in 1936.
Authored by: Erin Betley
Additional Resources:
For Hubbard's own account of her expedition, A Woman's Way Through Unknown Labrador.
Hubbard's expedition diary, with annotations and additional biographical information from experts: The Woman Who Mapped Labrador: The Life and Expedition Diary of Mina Hubbard.
References:
Siber, K. 2017. The Women Who Charted the Last American Wilderness https://www.outsideonline.com/2247341/woman-who-charted-last-american-wilderness.

Silvis. 2005. Unknown: Mina Hubbard's Extraordinary Expedition into the Labrador Wilderness. Lyons Press.

Wikipedia. 2018. Mina Benson Hubbard. https://en.wikipedia.org/wiki/Mina_Benson_Hubbard.
Image Credits:
Featured Image: Hubbard, Mrs. Leonidas Jr., 1908. A Woman's Way Through Unknown Labrador. London, John Murray, facing p. 88 [henceforth A Woman's Way]. https://www.pc.gc.ca/en/culture/clmhc-hsmbc/res/doc/information-backgrounder/Mina_Benson_Hubbard_Ellis.
Other Image Citation: By Unknown – Archives and Manuscripts Division (Coll. 241 07.03.009), QE II Library, Memorial University, St. John's, NL., Public Domain, https://commons.wikimedia.org/w/index.php?curid=8663064.